TBT: The Hardy Boys Live Once More
If you enjoy going to bookstores, you will notice that lately, there are prominent displays of a popular book series from the 1950s. Is this a mistake? Actually, it's not!
The Hardy Boys series is experiencing a resurgence, and this collection of books is finding new fans in 2021. We'll explain why in a moment. But first, a bit more about the origins of this much-loved series.
The Hardy characters were created by American writer Edward Stratemeyer, but surprisingly, the books were written by several ghostwriters under the collective pseudonym Franklin W. Dixon. The series ran from 1927 to 2005 and is comprised of 190 volumes in total. However, most who are true fans of the series consider only the first 58 volumes to be part of the official The Hardy Boys collection.
The Hardy Boys have evolved since their debut in 1927. Beginning in 1959, the books were extensively revised and written in a simpler style to compete with television. However, they didn't have to compete with television for very long.
In 1977, The Hardy Boys/Nancy Drew Mysteries was first shown on ABC, with the series changing its name later to just The Hardy Boys. Many teens and tweens of this era remember the show fondly, thanks to the series' handsome co-stars, Parker Stevenson and Shaun Cassidy, who in real life was half-brother to The Partridge Family's David Cassidy.
An interesting note is that prior to being on the show, Shaun began his career as a pop singer and quickly became a teen idol with millions of fans worldwide.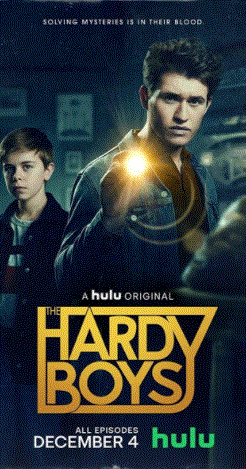 Today, almost 50 years later, a whole new version of this series exists, with The Hardy Boys original on Hulu. The new 2020 version has received a 71% rating on Rotten Tomatoes, and the show seems to be gaining a fairly large following.
The Hardy Boys books are making a surprising comeback in other ways, as well. The new Hulu show, Only Murders in the Building, starring Steve Martin, Selena Gomez, and Martin Short, features the book series prominently. In one scene, Selena Gomez's character Mabel and her friends are shown enjoying The Hardy Boys mysteries as children, and in another scene, it shows Mabel going through her old friend's book collection.
However, as amazing as these books are, they do come with one small caveat. As some of these books in the series were written almost 100 years ago, there are sections of the books that could be considered a bit sexist. That is not a reason to avoid the collection altogether, but it should be noted if you plan to start reading these books again.
As with many things from the previous millennia, it can be looked at as a great opportunity for discussion.
Sources:
https://en.wikipedia.org/wiki/The_Hardy_Boys
https://www.imdb.com/title/tt11252090/fullcredits
https://www.hulu.com/series/the-hardy-boys-5b8279f9-40eb-49e3-a42e-d80ce343e658
https://www.britannica.com/topic/Hardy-Boys
https://www.thefamouspeople.com/profiles/shaun-cassidy-33546.php