TBT: Eww, Yes, Kissing Booths Really Were a Thing
With the release of the Kissing Booth movies, people have started to question if kissing booths ever did exist. It is hard to believe that in this day and age of COVID, masks, and social distancing there could have ever been such a thing. Not many under the age of 30 have ever seen one, and for good reason.
So, did kissing booths ever really exist? And if so, how much was charged for a kiss?
Superman's Girl Friend, Lois Lane, No. 53 (November 1964)
The answer is yes, kissing booths did exist. In fact, they were very common in the 1950s, and many county fairs, festivals, and fund-raising events had kissing booths, especially in more rural areas. Usually, the cost for a kiss was $1.00, and it almost always featured the best-looking teens and young people in the area.
A Wikipedia entry on the subject states "A kissing booth is an attraction, usually at a carnival, where the person running the booth kisses other people, often to raise funds for charity."
But, you don't have to believe Wikipedia. There are plenty of examples from movies and TV that show kissing booths as quite normal things back in the day.
iCarly
In the episode "iSaw Him First" (2008), the characters Carly and Sam both want to be the first one to kiss a boy named Shane. Sam's plan involved setting up a charity kissing booth in order to sneak a kiss.
Cool Runnings (1993)
John Candy stars in the movie Cool Runnings, which is based on a true story. The characters Derice and Sanka set up a kissing booth to try to raise money to send their Jamaican bobsled team to the 1988 Winter Olympics in Calgary.
She's the Man (2006)
The story of She's the Man, starring Amanda Bynes and Channing Tatum, was inspired by William Shakespeare's play Twelfth Night. The film centers on teenager Viola Hastings, who enters her brother's new boarding school in his place and pretends to be a boy in order to play on the boys' soccer team. (Pay attention to the old guy lined up to kiss a 16-year-old girl.)
The Simpsons Movie (2007)
The Simpsons Movie is an animated comedy film based on the long-running animated sitcom The Simpsons. The film follows Homer Simpson, who irresponsibly pollutes the lake in Springfield, causing the Environmental Protection Agency to imprison the town under a dome. The scene with the kissing booth is shown on the TV as Homer and Ploper (the pig) watch a show together.
Johnny Bravo
In the 1997 episode "The Perfect Gift," Johnny wants to raise money to get his mother a present for Mother's Day.
Glee
In the 2011 episode "Silly Love Songs," Finn sets up a kissing booth in an attempt to kiss Quinn, using the excuse of raising money for New Directions, the school's glee club. Meanwhile, Rachel tries to steal a kiss from Finn in an attempt to re-establish their relationship.
Mischief (1985)
Obsessed with the hottest girl in class, a gawky high-school student of 1956 takes a crash course in teenage coolness from his motorcycle-rebel neighbor. The kissing booth scene features Kelly Preston, Jami Gertz, and Catherine Mary Stewart.
Happy Together (1989)
Happy Together stars actors Helen Slater and Patrick Dempsey who are forced by a computer error to share a room in a college dorm. Happy Together also stars a young Brad Pitt.
So Undercover (2012)
A tough, street-smart private eye is hired by the FBI to go undercover in a college sorority. The kissing booth scene, starring Kelly Osbourne.
Kissing Booth (2018)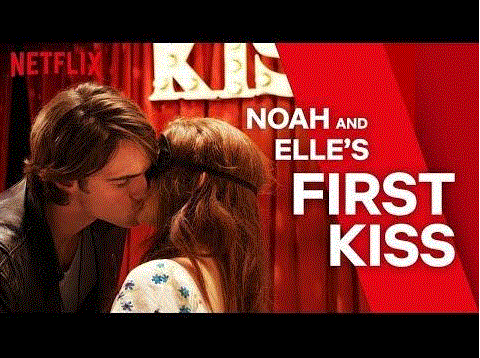 Sources:
https://en.wikipedia.org/wiki/Kissing_booth
https://www.imdb.com/search/keyword/?keywords=kissing-booth
https://www.reddit.com/r/AskReddit/comments/ienqi/did_kissing_booths_really_ever_existed_or_were/
https://en.wikipedia.org/wiki/She%27s_the_Man
https://en.wikipedia.org/wiki/The_Simpsons_Movie
https://glee.fandom.com/wiki/Silly_Love_Songs_(Episode)